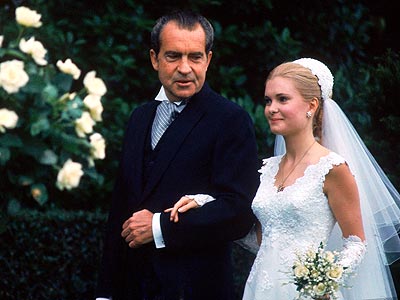 As devout Quakers,
Richard Nixon's
parents taught their four sons patience, courage, and determination, traits that Nixon said he drew strength from during trying times in his life. He later recalled that he "gained his first taste for politics during debates around the family dinner table" and described "friendly pillow fights with his three brothers in the small upstairs bedroom they shared."
Growing up on a small
citrus farm
in Yorba Linda, California, Nixon might have enjoyed grapefruit often, and Grapefruit-Avocado Salad was among the official menu items served at his second Inaugural Luncheon on January 20, 1973. If you'd like to whip up a refreshingly colorful, slightly tangy Grapefruit Avocado Salad in honor of Richard Nixon's birthday today, here's a simple and simply delicious recipe to try from
Ina Garten
:
1 tablespoon Dijon mustard
1/4 cup freshly squeezed lemon juice
1 1/2 teaspoons kosher salt
3/4 teaspoon freshly ground black pepper
1/2 cup olive oil
3 or 4 ripe Hass avocados
2 large red grapefruits
Place the mustard, lemon juice, salt, and pepper in a small bowl. Slowly whisk in the olive oil until the vinaigrette is emulsified.
Before serving, cut the avocados in 1/2, remove the seeds, and carefully peel off the skin. Cut each half into 4 thick slices. Toss the avocado slices in the vinaigrette to prevent them from turning brown. Use a large, sharp knife to slice the peel off the grapefruits (be sure to remove all the white pith), then cut between the membranes to release the grapefruit segments.

Arrange the avocado slices around the edge of a large platter. Arrange the grapefruit...and enjoy!