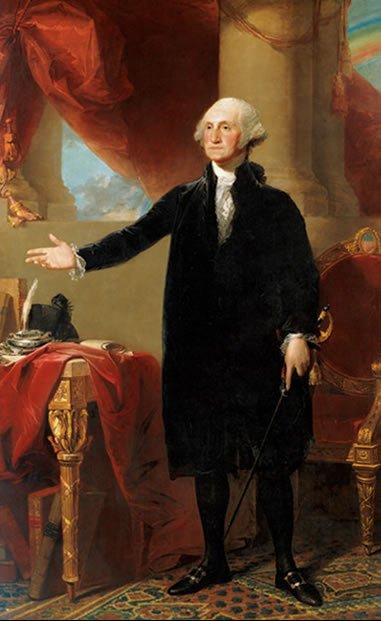 So did you know that one of
George Washington's
favorite desserts was ice cream? In fact, he liked this soft, creamy treat so much that he had an ice house constructed near his
Mount Vernon
home so that he and his family could eat ice cream often.
Historians say that Washington's icehouse was located on a riverbank about 75 yards from the Potomac. To store ice, Washington's slaves had to use chisels and axes to pull large chunks of ice from the frozen river during the wintertime and then haul them to the icehouse where they were stacked in layers and stored for use throughout the spring and summer.
Before constructing his ice house, Washington sought advice from his friend and fellow patriot
Robert Morris
, who had an ice house at his
home
at 6th & Market Streets in Philadelphia. In a letter to Washington, Morris provided a detailed account of how his ice house had been constructed:
My Ice House is about 18 feet deep and 16 square, the bottom is a Coarse Gravell & the water which drains from the ice soaks into it as fast as the Ice melts, this prevents the necessity of a Drain...the Walls of my Ice House are built of stone without Mortar...On these [walls] the Roof is fixed...I nailed a Ceiling of Boards under the Roof flat from Wall to Wall, and filled the Space between the Ceiling and the Shingling of the Roof with Straw so that the heat of the Sun Cannot possibly have any Effect...

The Door for entering this Ice house faces the north, a Trap Door is made in the middle of the Floor through which the Ice is put in and taken out. I find it best to fill with Ice which as it is put in should be broke into small pieces and pounded down with heavy Clubs or Battons such as Pavers use, if well beat it will after a while consolidate into one solid mass and require to be cut out with a Chizell or Axe. I tried Snow one year and lost it in June. The Ice keeps until October or November and I believe if the Hole was larger so as to hold more it would keep untill Christmas...
Although Morris didn't mention what he stored in his icehouse, we do know that the Washingtons used theirs to preserve meat and butter, chill wine, and make ice cream and other frozen delicacies for their many guests at Mount Vernon.
Of course, George Washington wasn't the only president who enjoyed ice cream. Accounts of it often appear in letters describing the many elegant dinner parties hosted by James and Dolley Madison, and the dish frequently appears in visitors' accounts of meals with
Thomas Jefferson
.
One particular guest wrote: "Among other things, ice-creams were produced in the form of balls of the frozen material inclosed in covers of warm pastry, exhibiting a curious contrast, as if the ice had just been taken from the oven." If you'd like to whip up some ice cream contained in warm pastry for your next dinner party, here is a simple and delicious
recipe
to try from puffpastry.com
1/2 of a 17.3-ounce package pastry sheets, 1 sheet, thawed
1 pint chocolate ice cream, softened
1 pint strawberry ice cream, soft
Chocolate fudge topping
Heat the oven to 400°F. Unfold the pastry sheet on a lightly floured surface. Cut the pastry sheet into 3 strips along the fold marks. Place the pastries onto a baking sheet. Bake for 15 minutes or until the pastries are golden brown. Remove the pastries from the baking sheet and let cool on a wire rack for 10 minutes. Split each pastry into 2 layers, making 6 in all.
Reserve 2 top pastry layers. Spread the chocolate ice cream on 2 bottom pastry layers. Freeze for 30 minutes. Top with another pastry layer and spread with the strawberry ice cream. Top with the reserved top pastry layers. Freeze for 30 minutes or until the ice cream is firm. Drizzle with the chocolate topping.
FAST FACT: In 1790, Robert Morris's house at 6th & Market Streets became the Executive Mansion of the United States while Philadelphia served as the temporary capital of the nation. Morris' icehouse was used by President Washington and his household until 1797, and by President John Adams and his family from 1797 to 1800.
For my new literary agent profile and submission guidelines,
click here